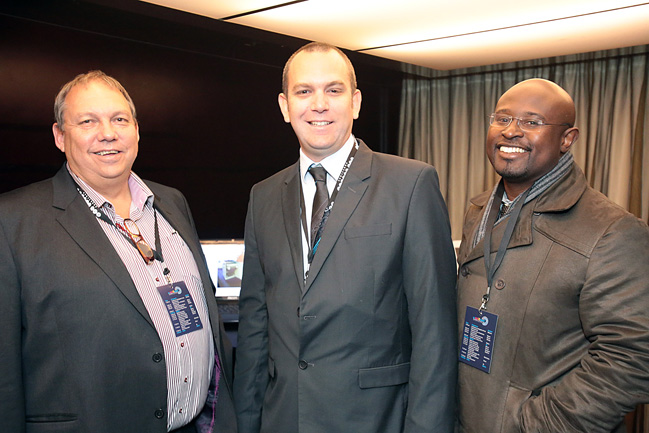 The annual Van Schaik Bookstore e-textbook conference was once again well received by among others; publishers and academics.
In the photo three of the speakers: Gary Hodgson (Mustek), Wesley Lynch (Realm Digital) and Melvin Kaabwe (Van Schaik Bookstore).
Confronted by tablets, mobiles, e-readers, e-books, e-textbooks, e-publishing and e-commerce options, publishers and academics are racing to keep up with technology, as consumers and education providers realize the power and accessibility of e-learning.
Van Schaik Bookstore's much anticipated E-textbook and Academic Materials Conference 2013, with a host of expert speakers, demystified the maze of challenges confronting publishers, academics and booksellers alike, in a technology driven information age. It also presented a discussion forum to openly address difficulties and solutions in a rapidly changing learning materials environment.
Due to popular demand, the conference were held in three provinces; Western Cape, Kwazulu-Natal and Gauteng.
The panel of speakers reviewed the technology options and the optimal choices for the book publishing and delivery environment.
Wesley Lynch – CEO of Realmdigital. A pioneer in the e-commerce space with a flair for creative insight into the sometimes overwhelming world of digital platforms. Wesley discussed what publishers are in for when they decide to go digital.
http://www.realmdigital.co.za/blogger/Wesley-lynch/
Ronen Aires – MD of Student Village. From research on campus to find and establish opportunities for with the youth on campuses across the world. Ronen took delegates on an adventure through what it means to market to young people now and how to activate campaigns for them to engage with brands in a more beneficial way.
http://www.studentmarketing.co.za/misc/ronen-aires-ceo-at-student-village
Gary Hodgson – Manager – Education Sales at Mustek.  He is responsible for all sales into education by Mustek in South Africa and the sub-Saharan countries. He spoke about e-learning in South Africa.
Matshidiso Moloko – MD of African Nerd. African Nerd provides hardware solutions to students on campuses across the country. They have been providing the highly technical machines expected of specialised courses by bursary administrators for years. African Nerd is an authorised HP Partner and Re-seller for Hewlett-Packard hardware.
Melvin Kaabwe – Digital Manager of Van Schaik Bookstore. Melvin spoke on e-textbooks as a tool for student learning and how the mobile revolution affects learning. Melvin is responsible for the Van Schaik's digital strategy, is a board member of PUKU Foundation for Children Literature and he's also on the digital steering committee of the Publishers Association of South Africa.
For more information on Van Schaik Bookstore's e-textbooks offering:
http://www.vanschaik.com/ebook/
http://www.vanschaik.com/page/etextbook-content
Melvin Kaabwe: melvin.kaabwe@vanschaik.com