Making a difference on World Book and Copyright Day 2015
Reading is fundamental for children. It helps them to expand their vocabulary, stimulates their imagination and above all expands their knowledge on various issues.
World Book and Copyright Day is celebrated on 23 April annually and every year Van Schaik Bookstore aims to make a difference by inviting learners from disadvantaged communities or with special needs around the country to participate in activities to embrace a love for books. Van Schaik's aim is to introduce reading as fun and not a chore. We introduce learners to the wonderful world of books by utilizing staff or special guests to read to them out of the most fascinating story books. These activities are done either at the selected bookstores or schools. The Van Schaik Bookstores that participated this year were Soweto, Grahamstown, Long Street in Cape Town, Port Elizabeth, Stellenbosch, Rondebosch, Parow, University of the Free State, Pietermaritzburg and Hatfield.
We are grateful for partners PanMacmillan, Christian Media Publishing, Jacklin Enterprises and NB Publishers who sponsored books such as "Bomani Meerkat and the friendship feather" and books from the Barbie series to 450 learners between Grade 3 – 8. Because we know reading stimulates creativity National Geographic Kids, Freedom Stationery, Pilot, SMD Technology, Interstat, Bantex and Silveray agreed to sponsor these learners with stationery and magazines to help them with creative activities long after this year's national World Book Day Celebrations.
"Van Schaik Bookstore believes it's imperative to teach children from an early age the value of reading and books. This will also set the tone for a love of studying and hopefully one day we will welcome them at our stores as tertiary students. However, the essence of this exercise is to give every child the opportunity to have a book of his/her own and to indulge in reading whenever & wherever he can." says Stephan Erasmus, MD Van Schaik Bookstore.
In addition to special activities like book readings and lessons on the value of books, Van Schaik Bookstore did a campaign to educate our customers about copyright infringement and plagiarism in April. "We want our customers to enjoy and value books but also to be cognisant of the impact of copyright infringement and plagiarism on authors and the future of the book.' says Erasmus.
World Book and Copyright Day is an annual event that takes place on 23 April, organized by UNESCO (United Nations Educational Scientific and Cultural Organization), launched in 1995.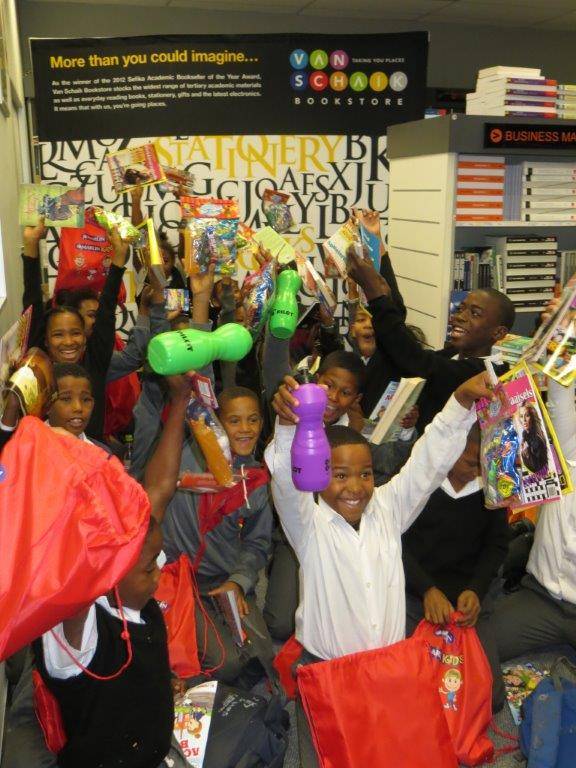 The learners of Parkview Primary visited our Parow branch and were entertained with a book reading, a lesson in the value of books and activities. They loved their goodie bags.