Want to win cash while shopping for exam stationery? It can be that easy for 15 lucky Van Schaik Rewards members. Van Schaik Bookstore, in partnership with ten stationery companies, are now offering Rewards members the chance to win a weekly cash prize of R2500 by simply buying any item from one of the partnered brands. One lucky Rewards member will also stand the chance to win a grand prize of R15000 at the end of the promotion which runs between 13 May and 17 August 2019.
Van Schaik Bookstore has selected a wide range of the best pre-exam stationery to help students prepare for the upcoming test series and, to keep things exciting, students can now win cash prizes for 14 weeks in a row by doing so. "It's important for students to have the right 'tools' when it comes to studies, tests and exams," says Margaret Vyver-Rambau, Van Schaik Bookstore's Marketing Manager. "Why not reward them for buying these 'tools' from us?"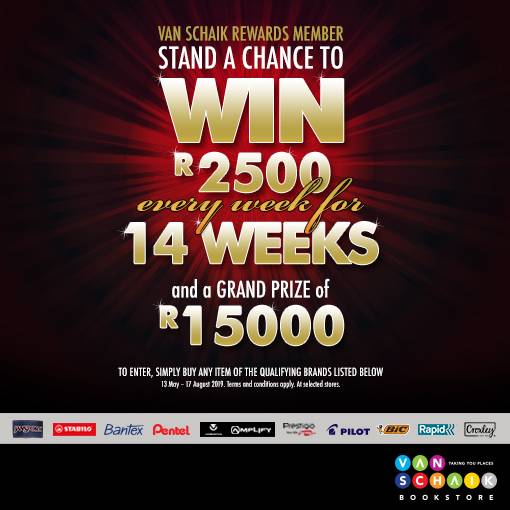 The running dates for this promotion was specifically designed as to offer as many Rewards members as possible a fair chance to walk away with a cash prize and not only do winners get the freedom to choose whether they want to spend their R2 500 on study material or themselves, but they are exposed to a wide variety of quality stationery brands.
Although the promotion is only available to Rewards members, Van Schaik has made it easy enough for any shopper to join the Rewards program while they are in-store. Customers can now provide their email address and cell phone number to a Van Schaik Bookstore cashier and the bookstore will send an email and SMS with a link that takes the customer directly to the app.
The customer can then download and register on the Van Schaik Rewards App. If the download of the app takes place within two weeks after the purchase, the points will be retained and the customer will stand a chance to win on two occasions, i.e. Stationery promotion and the download of the App.
The second version of the Rewards app is now available for download from the Google Play and Apple App Store.
DOWNLOAD VSB 2.0 HERE:
GOOGLE PLAY STORE: https://play.google.com/store/apps/details?id=com.vanschaik.vanschaikapp
APP STORE:
https://itunes.apple.com/za/app/the-van-schaik-rewards-app/id1445018864?mt=8