Van Schaik, the iconic chain of bookstores associated with student textbooks and campuses across South Africa, celebrates its 100th birthday in July 2014.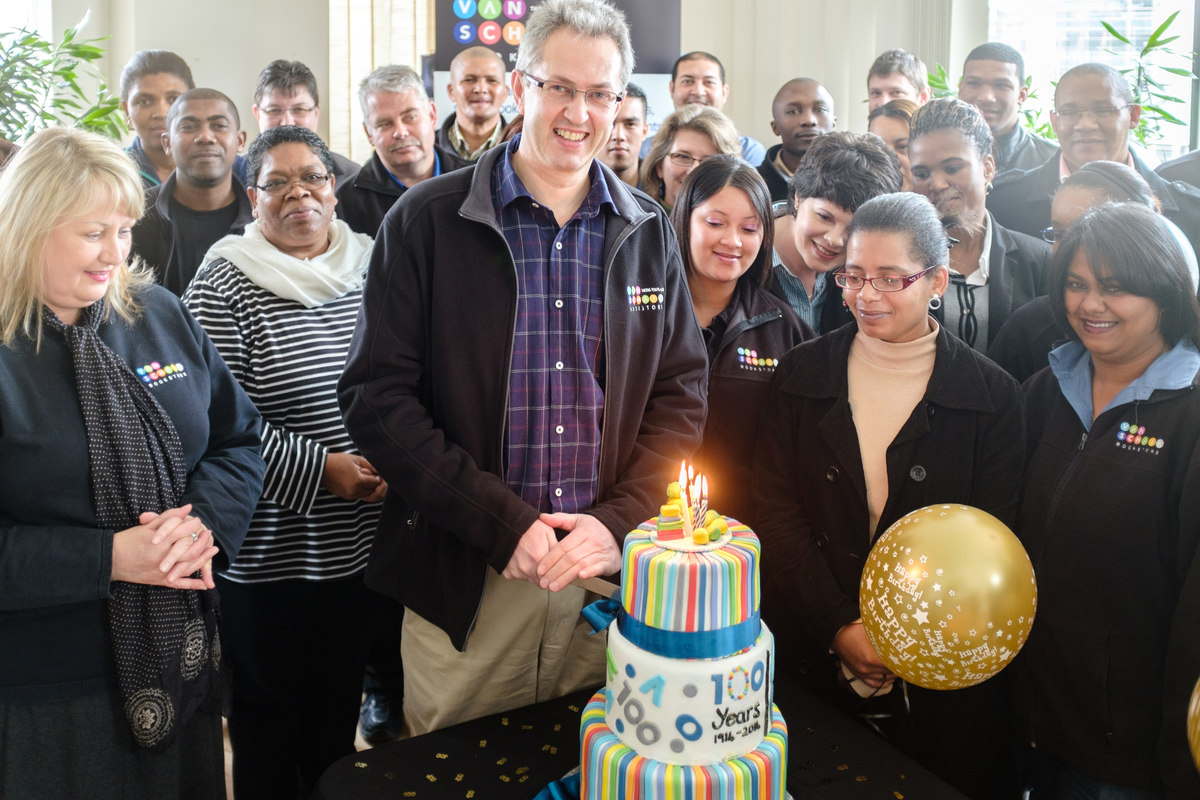 Van Schaik MD Stephan Erasmus celebrates 100 years of bookselling with the head office staff
With 60 stores in Southern Africa plus an online store, Van Schaik's achievement of a century of bookselling can be attributed to the responsive manner in which the business evolved - responding to changing consumer needs, technology developments and dramatic changes in the educational landscape in South Africa, over the decades and into the technology driven millennium.
Van Schaik Bookstore was first established in 1914, when Johannes Lambertus van Schaik opened a small shop specialising in Christian literature, magazines and stationery in Church Street in Pretoria.  The company's first foray into the supply of educational texts was in 1918 when they began supplying textbooks to Primary Schools, and from these humble beginnings, Van Schaik has become the foremost supplier of textbooks in Southern Africa.
"Education and the book publishing and selling industry in our country have evolved in accordance with the socio- economic and technological developments of the last century.  Van Schaik's footprint has grown to our current complement of 60 stores, an online store and a library supply offering," explains Stephan Erasmus, managing director, Van Schaik Bookstores.
From the beginning, Van Schaik has made it a priority to lead within the book sector – a move that was honoured in 1960 when Johannes van Schaik received a medal of honour from the SA Academy for his contribution to the development of the book industry in South Africa.  More recently, in 2012 and 2013, Van Schaik was awarded the prestigious Sefika Academic Bookseller of the Year Award, presented by the South African Bookseller's Association for recognition by the publishers of the role played within the industry.
An example of the company's forward thinking in the early years can be seen as far back as 1942, when in a move that was way ahead of its time considering that the Nationalist party was in power at the time, Van Schaik started making titles available in African languages. The first title was, Tsiri by Northern Sotho author MJ Madiba.
Van Schaik has changed hands over the years, with Via Afrika buying Van Schaik in 1986.  Then in 2007, Avusa Ltd acquired the company from Via Afrika, and in 2012, Times Media bought the business from Avusa Ltd. Meducapital became the new owner in 2013.
However, a change in ownership has not meant a change in focus and Van Schaik continues to respond to consumer needs and industry developments. The online store was launched in 2008 and in the same year Van Schaik opened stores on previously disadvantaged campuses such as The University of Zululand.  These stores provide an essential service to many students who lack the financial means to reach off-campus bookstores.
"The pressing needs of education made textbooks a priority resource, especially in rural areas. We have ventured into remote areas to make academic resource material more accessible to students – we have opened stores in Mthatha, Limpopo and Namibia," says Erasmus.
The rise of e-books has seen a paradigm shift in the world of books and publishing, and in 2013 Van Schaik responded to this growing trend by adding e-textbook solutions to their offerings, using Ingram's VitalSource® online platform.  "E-textbooks are a growing and important part of the future of education, and working with an international market leader like VitalSource®, we have the resources to enhance learning throughout Africa and meet the digital needs of the academic community today and into the future," says Erasmus.