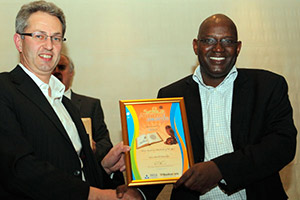 We are very proud to announce that we won the coveted SEFIKA Academic Bookseller of the Year Award for 2013 for the second consecutive year. This was awarded to us on Wednesday, 14 August at the special award evening of the annual SABA Conference held at The Vineyard Hotel in Newlands, Cape Town.
The award recognizes the role booksellers play and the contribution they make within the industry according to the publishers. Booksellers are rated on the operation and management of the bookshop; the efficiency of the bookshop's ordering and receiving procedures; the impact of shop floor/window merchandising and displays; the value of the bookshop's advertising and other promotional efforts; the quality of staff and the relationship of the bookshop with suppliers.
We realise that achieving this award is not possible without the support of our suppliers, publishers and customers so we would like to extend a big thank you to you all.
In the photo:  Stephan Erasmus, Managing Director of Van Schaik Bookstore (left), receives the 2013 Sefika Academic Bookseller of the Year Award from Mandla Balisa, Managing Director of Macmillan and Chairperson of the Publishers Association of South Africa (PASA). Photo taken by Izak de Vries from Litnet. Originally published here.